16.05.2012
Na zadnjem albumu Zeppelinov po imenu Coda, kar v glasbi pomeni zaključek, ki je izšel dve leti po razpadu skupine in smrti bobnarja, so se znašle tri pesmi ki so preostale iz snemanja albuma In through the out door posnetega leta 1978 v Polar studijih skupine Abba v Stockholmu na Švedskem!
Pesem Darlene je ena izmed njih in gre za izvrsten boogie woogie rock and roll , kjer Page pokaže znanje v stilu kitaristov samega Elvisa in sicer Scottya Moore-a in James Burton-a in igra izvrstne rock and roll rife in odlične solaže v stilu petdesetih, ki kar prekipevajo od energije in vrelca množice not, Jones pa poleg groovy basa h kateremu se priključi kot vedno izjemen Bonham doda solaže na klavirju, kjer solira tudi z akordi, kar zveni res zanimivo in nekoliko spominja na klavirsko kitarske jam sessione znotraj komada No quarter na ameriški turneji 1977!
Bonham-ovi prehodi in groovi so res izjemni, dinamični in zelo domiselni in ponesejo skladbo v stratosfero!
Plant pa poje o dekletu v katerega je res ZELO zaljubljen in trdno odločen da jo dobi in najprej jo opazuje v njeni tesni obleki ko pleše, nato mu srce zagori ko jo vidi na ulici in ko opazi da hodi z drugimi fanti ga to tako zelo boli.
Vsakič ko Plant zapoje Darlene vse skupaj zveni bolj kot Double e, torej dvojni e(oziroma i, če gledamo fonetično), lahko je to slučaj lahko pa da misli na svojo ženo Maureen, ki ima torej v imenu dvojni e!!
In potem poje in poje kaj vse bo naredil za njo, kaj vse ji do dal, kako zelo se bo trudil da se bosta lepo imela in vse to v tej sicer zabavni pesmi, kjer so ga Zeppelini predvsem žurali,
zapoje tako zelo prepričljivo, še posebej izjemen pa je vse bolj stopnjevan zaključek, kjer Plant v momentu 3:41 res neverjetno stopnjuje svoje petje v izjemno prepričanost vase in hkratno skoraj moledujoče prosjačenje na kolenih, naj ga punca vzame k sebi, njegova namera pa je da ji bo dal še roza nagelj in prišel po njo z majhnim tovornjakom, takšnim kot se jih spomnimo iz filmov iz petdesetih in tukaj gre za citat iz pesmi Don-a McLean-a American pie, katere priredbo je več kot deset let nazaj posnela tudi Madonna!
Pesmi Zeppelini niso dobili priložnost igrati v živo zato spodaj le studijska verzija! Dodajam pa še No quarter in sicer izvrstno verzijo iz Los Angelesa na 21. junij 1977, kjer lahko slišite jam ki spominja na solaže v Darlene!! Uživajte!
Besedilo:
Oh, yeah
A-Darlene, ooh-ooh, Darlene, woo-ooh, Darlene, ooh-ooh, yeah
Darlene, oh-oh, Darlene, oh-whoa-whoa, Darlene, ooh-ooh-ooh
C'mon, baby, give a-me-me a screw
When I see you at that dance with your tight dress on
Whatcha got, it sure is fine, I wanna get me some
Darlene, woo, baby, baby, Darlene, aw, baby, baby, Darlene
Oh, come on, baby, c'mon, c'mon, c'mon, hon', babe
Darlene, ooh-woo, Darlene, hey, hey, Darlene, oh, oh
Come back and be my m-sweet a-little girl
When I see you on the street, makes my heart go flick
I see you walkin' with all those guys, and make me feel so sick
And I don't care what people say, and I don't care what they do
Sweet child, gotta make you mine
You're the only thing that I wan' do, yeah
And, baby, baby, when you walk down the block
see the people fight
Ooh-woo, child, y'know, you drive me wild
I gotta do it, really gonna try
Woo, baby, I've got my car, I'll take you where it's fine
I'm gonna take you everyplace
D'ya wanna boogie-woogie-woogie-woogie-woogie, it's fine
I'm gonna boogie, Darlene, I'm gonna make you a-my girl
I'm gonna boogie, a-Darlene, I wanna send you to another world
'Cause I love you, a-Darlene, well, I love you, yes I do
I been a-savin' up my money, I been workin' all day long
I gotta give it all back to you
Oh, but I love you, n-Darlene, 'cause I love you, yes I do
I been workin' in school, I keep workin' every day
I been tryin' to get home to you
and I love you, Darlene, yes I love you, I do
I got a pink carnation and a pickup truck
A-savin' it all for you
Oh, I love ya
Go
Go, go, go, go, go
Studijska verzija, posneto novembra in decembra 1978, izdano 19. novembra 1982, album Coda, poslušajte moment 3:41 da začutite kako zelo si Plant želi to punco:
No quarter, Los Angeles 21. 6. 1977, priporočam cel komad, res vrhunska verzija, Jones je neverjeten na klavirju in dodaja tudi klasične skladatelje, vrhunski je tudi Page-v solo ki se začne po šesti minuti drugega dela, boogie jam pa se začne skoraj povsem na začetku drugega dela in razen tega jam-a je to zelo temačen komad, za razliko od Darlene: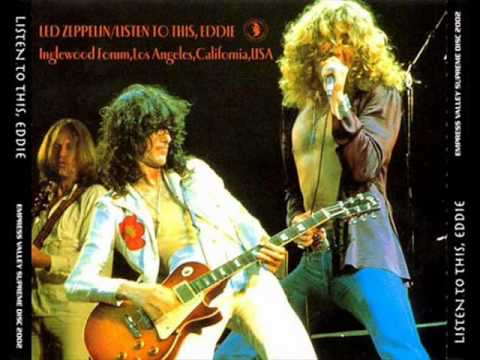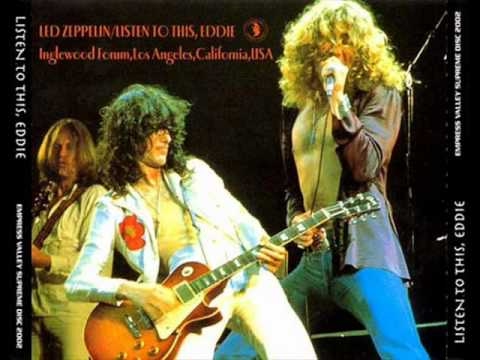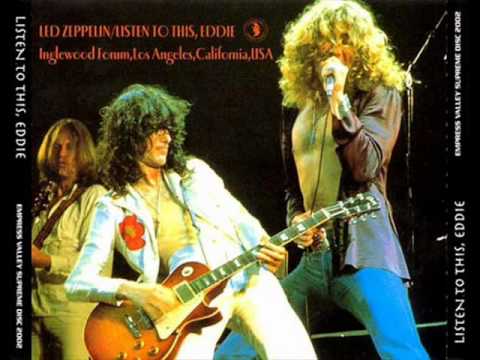 Komentiraj
Za pisanje komentarjev morate biti prijavljeni.